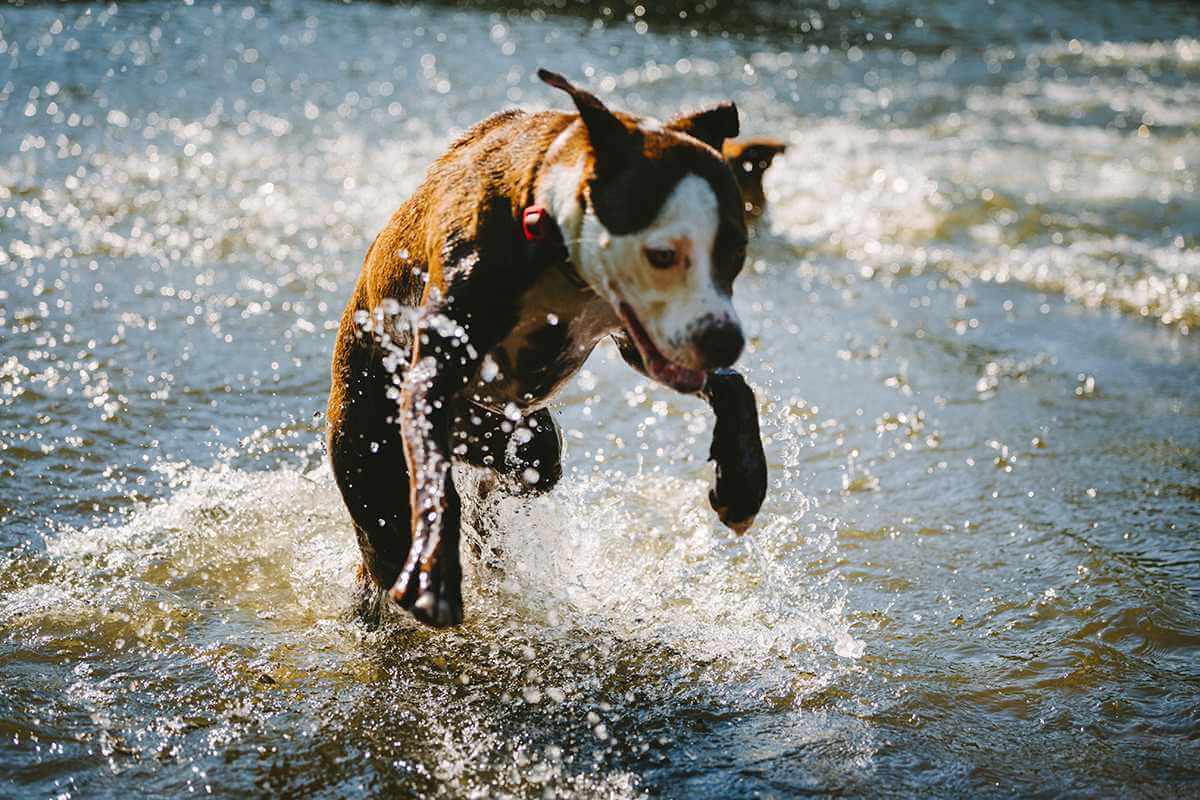 Have you ever wanted a friend to join you for a workout, only to be disappointed when they drop out at the last minute? You've probably heard every excuse in the book as to why they cannot exercise with you early in the morning or after work. So, how can you exercise with a buddy who will never let you down? A friend that many people forget in this instance is the trusty dog. If you're a dog owner, your pet is the key to finding a successful workout partner each and every time you want to get fit and healthy.
How To Exercise With Your Dog
Of course, your dog won't be able to join your local gym and hit the weights with you, but there are some fantastic exercise options that you and your pooch can get involved in.
Go hiking with your dog
Whether you live in the city or a regional town, there will usually be an opportunity to go on a hike with your dog. If you're just starting an exercise routine, however, you may want to start with a casual stroll around your neighbourhood. Once you get used to your new physical activity, you'll be able to take it to the next level with a hike that you'll both love.
Swimming with your dog
Swimming is a great low impact exercise, particularly to break up your usual exercise routine. It's also a great option for older dogs or those that have joint pain or arthritis due to its low impact. Head on down to your local beach, creek or river and enjoy a swim together.
Playing catch…with a catch
There's nothing like a game of good old-fashioned catch in the park with your dog. However, you can update this old game to ensure you get to work up a sweat too. When you throw the ball, do as many push ups, sit ups, squats or pull ups as you can before your pooch returns with the ball. Once they come back, repeat the circuit again. Remember not to rush through your human exercises, focus on your technique, not speed.
4 health benefits of regular exercise for dogs
Regardless of their temperament, dogs need to be stimulated regularly, and given the opportunity they will have plenty of exercise when it comes to exercise. There are a few reasons why your dog will truly benefit from regular exercise
1. They Will Stay Fit
With the right diet, exercise will help your dog to stay fit and healthy. Helping your dog to stay within a healthy weight range will help them to stay away from health issues such as obesity, respiratory problems and joint pain. If your dog is already overweight, gently introducing them into an exercise routine is the best method. Your vet may also be able to provide you with a weight-tracking chart to keep an eye on their progress.
2. They Will Stay Healthy
There are plenty of ways exercise helps to keep your pooch healthy. A healthy digestive system, well-working circulatory system, lower blood pressure and better muscle build up are all just some of the benefits of a healthy dog. Your dog will also be able to avoid constipation and urinary tract infections with better exercise and walks.
3. Exercise can curb behavioural issues
When a dog isn't taken for walks or exercised sufficiently, chances are they'll start to get bored. When boredom sets in, a number of behavioural issues could arise. Even when left alone for several hours, they can get frustrated if they don't have anything to keep their mind ticking over. Some issues such as chewing on their feet, digging holes in the yard, constantly barking and chewing on furniture are symptoms of behavioural problems. Regular exercise is a great way to avoid these destructive behaviours by providing your dog with the stimulation they need.
4. Exercise boosts a dog's mental health
You can just see the happiness on your dog's face when the mention of going for walk is spoken. When your dog goes through various life changes, such as moving house, losing a companion or perhaps the introduction of a baby into their life, this can cause depression in some dogs. A great way to help counter this is through exercise. Walks help to elevate the mood of your dog and help to beat depression. Even spending time together with a quick game of catch can help boost their mood and energy levels.
How your dog can exercise safely
Just like humans, dogs need to exercise in a safe environment in order to avoid injury. As a humble dog owner, you probably won't be able to spot the telltale signs your dog is injured, or know what exercises are safe for a dog. In fact, data from the RSPCA reveals arthritis and cruciate lig rupture are some of the most claimed injuries for Australian pets.
So how can you spot an injury or safely exercise a dog?
To shed light on this, we turned to canine muscle therapist Jackie Crawford from Canine Muscleworks to reveal how to exercise with your dog safely.
1. What kind of injuries occur when a dog is exercised too much? How does this happen?
Sore limbs, sore muscles, tummy aches – much like humans who have overdone it in the gym. Dogs that exercise regularly live longer and are happier, but be wary of over-exercising dogs. Incorporate rest days between intense difficulty workout to allow the muscles to recover.
Dogs will not over-exercise themselves off-lead but humans can push them too far, for example by exercising them on a leash while bike riding. Each dog is different and has different exercise needs. Owners need to be sensitive to their dog's behaviour and act accordingly.
2. How can an owner spot when a dog is in pain?
Many dogs will push themselves because they love being with their owners and are eager to please. As such owners need to be watchful for these signs that the dog is in pain and cut back:
Excessive panting
Lagging behind
Limping
Lameness
Laying down
Reluctance to go for a walk
Sometimes signs of injuries are not obvious. To identify injuries, I recommend owners train themselves to be observant of their dog's movement, behaviour and range of motion. For example, observe the dog stretching, turning, walking, running. Serious injuries like limping are obvious but study the dog well so they notice more subtle signs like tightness, tenderness and restricted movement.
Early detection and prompt attention to any muscular injuries is important so that it does not become an issue. When a dog's structure is perfectly aligned and muscles are toned, its movement is balanced and graceful. Any muscular injuries will cause a change of gait.
3. What are the best ways to avoid this?
Injuries can be prevented by doing warming up and cooling down exercises such as brisk walking before starting an activity and playing tug. Most dogs love to play tug which actively stretches the whole body. Do not over exercise puppies and senior dogs.
Dog friendly parks & beaches in Perth
Whitfords Dog Beach – Hillarys
After midday on Monday through to Saturday and all day Sunday, your dog can exercise off-leash in the current horse beach exercise area. It's a great spot to take your dog for a brisk walk and can also help them to socialise with other dogs too.
Ellis Brook Valley, Gosnells
Just minutes away from Gosnells Town Centre, enjoy the views across Perth from the top of the waterfall at Sixty Foot Falls Circuit. There are four great walk trails for you and your dog to explore, making Ellis Brook Valley is the best place for that hike that you may be planning.
John Oldham Park, West Perth
Accessible from the foreshore cycle paths, get away from the busy city life and enjoy a peaceful place for you and your dog. The park is home to a waterfall and lake, which makes for a great backdrop be active with your fur-ever friend.
There are plenty of reasons why owning a dog and getting started on an exercise routine can benefit you both greatly. By easing into a new routine and incorporating a healthy diet (for you and your dog), you'll both be on your way to a healthy lifestyle in no time.
We'd like thank our guest expert Jackie Crawford from Canine Muscleworks, a muscle therapy centre for dogs located in Canning Vale and Claremont. Jackie's goal is to help all dogs live a healthy and pain-free existence.