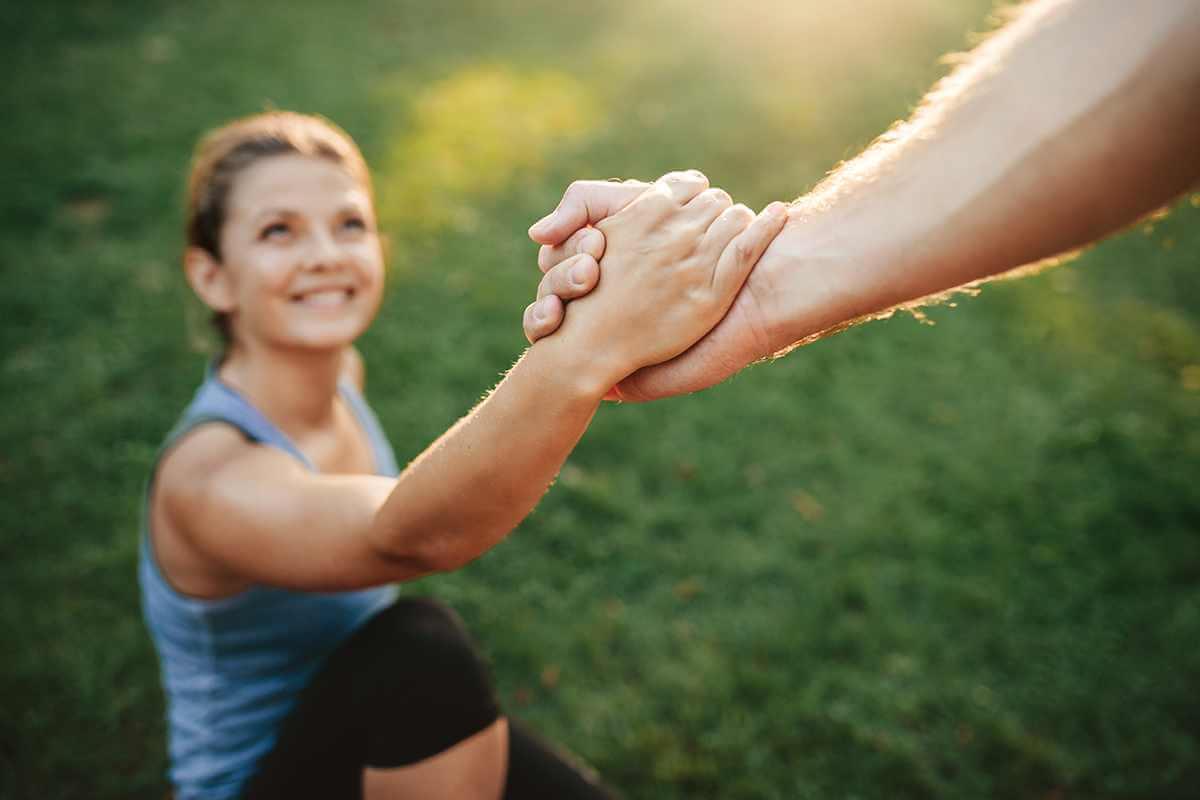 First impressions count
Did you know that you have only seven seconds to create a strong first impression? Studies prove that your body language and overall presentation contributes to the way another person will perceive you. Seven seconds is a small window to sell yourself to a client, so you want to make those seconds work. As a personal trainer, forming a good first impression is vital to establishing a relationship with a client.
How to identify your client's needs
We are all different. When it comes to drawing up a workout plan, it's important to tailor it to the individual client's needs. Rather than putting together a program with a one-size-fits all approach, come up with a custom-made plan. It helps your client track and notice their progress, and it helps you as a personal trainer to be able to give the proper advice and guidance. Some steps to building a program for your client include:
Asking why: Why are they enlisting the support of a personal trainer? What is it that they are wanting to achieve with their program? What are their fitness goals?
Be a SMARTER trainer:Use the "SMART" principle. What is their 'specific' goal? Is it 'measurable'? Is their goal 'achievable'? Is their program 'realistic'? What is the 'time' frame for their goal?
How to encourage and motivate your personal training client
Keeping your clients motivated can be a challenge as a personal trainer. Every client requires different methods of communication and reinforcement. If you notice your client missing appointments or losing the motivation to push themselves through each routine, you need to find out what makes them 'stick'.
In other words, what is it that made them come to you in the first place? And what have you set in place to ensure they stick to their routine? The following steps can help both you and your client stay on track:
1. Establish a routine
Life can get in the way. Your client may have a demanding job, family commitments or appointments that get in their way of consistently making it to training. Sit with your client and come up with a regular schedule, pencilling in every session for the next three months.
2. Find out what motivates them
Does your client respond well to encouragement throughout the workout (e.g. "you got this!") or do they push harder with a more commando-style approach? Ensure that you provide them with progress reports after each session to help motivate them.
3. Mix it up
Indoor workouts are great during winter, and you have everything at your disposal. But consider having your client meet you for an outdoor training session. The fresh air and sun can be a natural motivator!
The importance of bonding with your client and sharing their wins
By considering each client-relationship as an ongoing partnership, you build a more sustainable bond which will enrich you as a personal trainer and give your client more reason to stay on track. Approaching your client relationship as a collaborative venture, where you're both working to help support each other, will make working out more effective, more fun, and entice your client to stay committed to their program.
Personal training is a relationship building business. Establishing a bond and gaining rapport with your clients can be built on:
1. Getting to know your client
Get to know what exercises your client likes or dislikes. If you have them regularly performing pull-ups when they can't stand them, they won't be consistent in showing up to train.
2. Good communication
Respond promptly to phone calls and emails. Schedule progress reports and ask your client for feedback. Keep training sessions professional but don't be afraid to maintain a sense of humour!
3. their needs
The best personal trainers are the ones who ask questions. Ask your client what brought them to the gym, what they are hoping to achieve and why. Throughout your training program continue checking on them.
It starts with you
Building a good client-base as a personal trainer requires great people-skills and a genuine interest in the client and their goals. Remember the client is essentially buying a service which they expect you to deliver. Make them feel confident and motivated in achieving their fitness goals by establishing a bond and assuring them that you are the right person for the job!
At Bailey Fitness we help to develop strong, positive relationships with our clients. By joining us at one of our Perth health clubs you will have a state of the art facility to work with your personal training clients. Get in touch with our team today to learn more about how you can achieve results for your clients and yourself.